Doors Open came up with an initiative that combines World Compliment day with International Women's Day 2021. This day commemorates the social, economic, cultural and political achievements of women. In the run-up to International Women's Day on the 8th of March, we complimented an inspiring female leader every day. These women #choosetochallenge all in their own unique ways. We are proud to present all those amazing leaders we have put the spotlight on with you and share their contribution to this world. 
Do you want to know why we found these women inspiring? Keep reading, because you will find out in this blog! These women #choosetochallenge and this is why.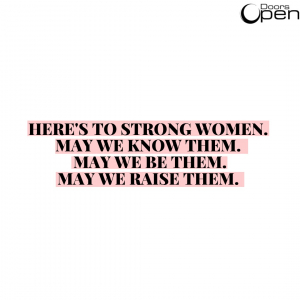 The first woman we chose to shine a light on is Elsa Endlich-Metselaar. Elsa is the manager of the Human Capital Development team at NN Investment Partners. I have known her for quite some time but the past year I have had the privilege to work closely with Elsa. I am amazed by her energy, knowledge and realization power. When the pandemic and lockdown started Elsa immediately made sure there was a programme to support all employees during these unprecedented and challenging times. Elsa is an expert in her field and an advocate for diversity and inclusion. She is a true people manager, ensuring her team feels heard and seen. These skills are indispensable as a future leader. 
Working as a health care professional at her own company Medfield, Karen Wiegant strives to improve health care. I like how Karen is always eager to achieve the best results, has a mix of curiosity, perseverance and the ability to connect people while always making sure there is a common goal and shared motivation. With her medical background and strength to critically analyse she supports the development, implementation and use of medical technology. People know her for the personal attention she gives and for being an expert in her field. 
Nathalie van Wijkvliet is the founder of myhappyfootprint. With her big green heart, she created this personal blog and marketing agency with the aim to make the world a better place. Having a positive impact on the planet is her priority as she believes that people and the planet should be put before profit. She always has and keeps on inspiring me. There should be more people like her on this planet! 
Another powerful leader is Dinusha Frings. I am always inspired by her positive attitude and how she stands up for herself and her beliefs. She has her own company and is an excellent project manager. She is honest, very energetic and full of creativity. She is the type of person who always smiles, works hard and strives for optimal results. Dinusha, thank you for enriching my network with your positive attitude! 
The next woman shares this positive attitude with Dinusha. Oprah Alberto is a Work and Organizational Psychologist and is an excellent people manager with a passion for HR. Working as an HR manager at LionsDive Beach Resort on Curaçao during these unpredictable times, requires strong work ethics. Her proven thoroughness and attention to detail make her unique. With her focus on Diversity & Inclusiveness and Learning & Development, it is always a pleasure to work with her. 
Angela Abdoelhafiezkhan is such a great leader, always eager to learn and achieve more. I met her a few years ago during a leadership program and since then she has made impressive career steps, now working as Head of an IT department at Rabobank. I am proud of the woman she is today and I admire her perseverance! 
All these female leaders have inspired me and Doors Open in their own way. Hopefully, these compliments got you thinking about who is inspiring to you and why. By sharing more often what you admire in someone else, we can spread positivity together!
https://www.doors-open.nl/wp-content/uploads/2021/03/Complimenten-Posts.png
1080
1080
Suzanne Mau-Asam
http://www.doors-open.nl/wp-content/uploads/2018/11/Doors_Open-logo-zwart-transparent-1030x376.png
Suzanne Mau-Asam
2021-03-08 20:45:58
2021-03-09 10:11:54
#SheInspires: 6 women who inspire us in 2021