The growth of virtual teams (also known as distributed or remote teams) is remarkable. It is no longer uncommon to work with colleagues who are located on the other side of the world. From quick-growing start-ups and a network of digital nomads to great multinationals, more and more teams are geographically spread over the whole world. And that brings challenges when it comes to building a team.
In February, Doors Open visited Norway, where Suzanne mentored a newly created project team consisting of 10 different nationalities, coming from 6 different organizations and spread over 4 countries, for the start of a new project.
A team like this comes with challenges. Although teams that are geographically located in the same place are also not always easy to manage either, virtual teams differ on 3 aspects:
1 – Complexity
Virtual teams are more complex in creation in comparison to teams that work in the same location. Language barriers, cultural differences, other backgrounds, different working times and irregular access to technology and communication platforms, make working as a virtual team a big(ger) challenge
2 – Invisibility
"Yes, we agreed on this at the coffee corner" or "We brainstormed a new project during the after-work drinks".  Physical proximity makes working together easier in many ways. There are even researches which show that if you are more than 30 metres apart from the other, the collaboration becomes more difficult.
3 – Broken and complicated communication
A great deal of our communication has nothing to do with what we say.
Moreover, when it comes to face-to-face communication, 93% of what we communicate is non-verbal.
Without the face-to-face contact, many virtual teams are completely reliant on verbal communication. We don't have anything other than words. Even in audio-conferences 50% of what is said, is lost. This leads to a higher risk of misunderstandings and incomprehension. Especially if the different cultures and language barriers are added to this.
How do you make sure , with all these additional challenges, that a team which is spread all over the world still functions well? These are our 10 tips:
1 – Ensure that there is a shared vision
In every team, virtual or not, a shared vision is crucial. Why are we working on this project every single day? What is our goal? Therefore, it is no surprise that the lack of common interest is 1 of 5 of the most important reasons why teams – distribuive or not – fail.
2 – Create trust
In virtual teams, trust is even more important than in physical teams. A very important prerequisite for trust is acquaintance. Make sure that the team members get to know each other and the team. If possible, start off face-to-face and then move towards becoming a virtual team. Make sure that you create a feedback-culture (see point 6 on this list) and that promises are being fulfilled. Often it works well if you first let your team members fulfil small and clear tasks. This will help build trust gradually.
3 – Create a "Way we work" document together
Many virtual teams fail because the "Way we work" is not carried out by everyone. When the virtual team starts, let the team members contribute and create a "Way we work" document, that is based on 3 pillars: trust, shared understanding and communication.
Capture important agreements in this document, such as: When are we available? Do we prefer to communicate by e-mail or via Skype? Which platform do we choose as most important way to communicate? How and what do we communicate during a meeting, and what outside of the meeting? In which language do we communicate? Let the team members express their preferences and take this to build on a way of collaboration that works for and is carried out by everyone.
4 – Don't underestimate (cultural) differences!
"Non-native" speakers might tend to hold their opinions back during meetings, because they might feel uncomfortable. Are you in charge of facilitating a virtual meeting? If so, try to facilitate participation as much as possible. More importantly, do not go with the "silence shows consent" principle and be aware that different cultures express themselves differently. Ask for confirmation, if something that is (not) said really is meant that way in reality. That way you reduce the risk of misunderstandings like the one below:
5 – Create routine
Keep communicating with all team members frequently. For example, after weekly video calls.
6 – Ask for feedback – and explain what you are doing
Due to the lack of face-to-face communication, the chance of misunderstandings and miscommunication is much bigger. That is why asking for feedback is even more important in a virtual team than in a non-virtual team. Don't make assumptions but ask for a concrete response. During our session in Norway, the team members had to do an exercise where they had to work together without seeing each other. It is surprising how quickly you work past each other. Feedback and clear communication are essential for virtual teams.
Are you curious how you can create an effective and efficient feedback culture? Contact us, we are happy to tell you everything about it!
7 – Use the right tools for important information
Working virtually creates a great risk that important information gets spread over the (whether or not it's private) computers of team members. Make sure this information is accessible for every member in a secured and centralized way. This way you can avoid wasting time.
8 – Minimize the use of e-mails
This sounds contrasting, because how are you supposed to communicate with a team if you only have digital contact? The problem is, that many virtual teams tend to send every e-mail to everyone, which leads to an overload of information. Only send the e-mail to those colleagues who are directly concerned with the question. Do you need a quick response? In that case you can choose a chat program where you can directly answer questions.
9 – Shared responsibility is no responsibility
Clearly define and communicate who is responsible for which tasks in the team. As the leader, arrange frequent feedback sessions and remind people of their responsibilities.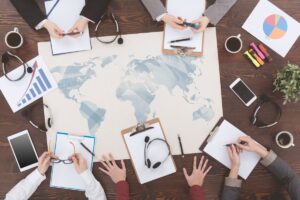 10 – Celebrate successes and milestones
Just like in teams where the members are geographically situated in the same location, celebrating successes is equally important to virtual teams. This keeps the motivation up.
Do you have tips that you use with your virtual team? Let us know in the comments below. Would you like to work with Doors Open to build a successful virtual team? Contact us, we are happy to have a cup of coffee with you. Via Skype, or on location.
https://www.doors-open.nl/wp-content/uploads/2019/03/Doors-Open-Blog-Hoe-bouw-je-een-goed-virtueel-team-1.jpg
797
1200
Suzanne Mau-Asam
http://www.doors-open.nl/wp-content/uploads/2018/11/Doors_Open-logo-zwart-transparent-1030x376.png
Suzanne Mau-Asam
2019-03-07 15:00:28
2019-05-06 14:08:28
How do you build a successful virtual team?